Add Assets To Your Fund
As an EBCF fund advisor, there are many ways you can transfer funds into your account. EBCF can accept the following assets:
Cash, credit card, or publicly-traded securities can easily be used to add philanthropic resources to a fund
Closely held stock, real estate, or other real assets
Complex Assets
Please note: Some gift types may require approval from EBCF's Board of Directors.
Gift Delivery Instructions for Fund Advisors
In order to process your gift, our Finance team must have three pieces of information:
Donor information
Name of the fund to be credited
Details of the gift
Please provide these details by email at finance@eastbaycf.org or by phone at 510-208-0811.
Important 2022 Giving Deadlines
Our staff continues to work diligently to help you with your charitable goals and interests. As you plan your giving, please take note of the year-end deadlines noted on this page.
EBCF's offices will be closed for business 12/26/22 through 1/3/23. We will reopen on Tuesday, 1/3/23.
Gifts received or postmarked by 12/31/22 will be credited to calendar year 2022. If your contribution is made later in December, you may not receive your acknowledgement letter or a tax-receipt until February 2023.
PLEASE NOTE: To make a complex charitable asset donation credited to the 2022 calendar year, please contact finance@eastbaycf.org by 12/9/22.
Payment Methods
Union Bank, N.A.
Account Name: East Bay Community Foundation
Account#: 0110529074
Routing#: 122000496
For assistance making a gift of cash by wire or ACH, please contact Donor Services at (510) 208-0812 or dsas@eastbaycf.org. Wire transfers must be delivered on or before 12/31/22 to be credited to the 2022 calendar year.
Use the following information to transfer your securities:
Union Bank Investment Services
Account Name: East Bay Community Foundation
DTC#: 0226
Account #: 0BP798337
If you have any questions, please contact our broker:
Attn: Steve Baumhoff
350 California Street, 18th Floor
San Francisco, CA 94104
Phone: 415-705-7187
Steven.baumhoff@unionbank.com
East Bay Community Foundation often receives gifts of securities without essential donor-identifying information. If you plan to transfer securities, please complete the online form  to ensure proper credit of your gift. Complete stock and donor information may also be e-mailed to finance@eastbaycf.org or provided over the phone at (510) 208-0811. 
PLEASE NOTE: To be credited to the 2022 calendar year, charitable stock donation must be received by 12/31/22. Delivery period can vary; please consult with your advisor to plan sufficient time ahead accordingly.
If you prefer to mail a check, our mailing address is:
East Bay Community Foundation
c/o Director of Donor Services
De Domenico Building
200 Frank H. Ogawa Plaza
Oakland, CA 94612
Mailed checks postmarked on or before 12/31/22 will be credited to the 2022 calendar year.
---
Invest Your Funds
As an EBCF fund advisor, you can choose to invest your funds in one of four pools: a cash pool, a short-term pool, intermediate-term pool or a long-term pool. Use the Investment Change form to make recommendations for your investment allocations. Typically, fund advisors do not change their investments often, but when appropriate, EBCF will accommodate these changes on a quarterly basis.
---
Make a Gift to EBCF
Unrestricted gifts made directly to East Bay Community Foundation are the best way to make an immediate impact on the present and future of the East Bay. All gifts made to EBCF are tax-deductible (Tax ID/EIN 94-6070996).
Make a Grant Recommendation
Fund advisors can make your grant recommendations (which initiate grants to nonprofits) using your DonorCentral account.
2022 Grant Recommendation Deadline
Want to make a grant to a nonprofit by the end of the year?
Please submit your request by 10:00 am PT on Wednesday, December 14.
Grant recommendations received after this deadline will be processed in January 2023.
To ensure your grant recommendation is processed in a timely manner, please submit your request(s) through our online portal Donor Central.
Due to extremely high volume, grant processing timelines in December and January may be significantly longer than usual. PLEASE NOTE: grants that exceed 80% of available fund balance may be delayed.
Need assistance with your grantmaking? Please contact your relationship manager directly or our Donor Services team, at dsas@eastbaycf.org.
---
Meet Our Fund Advisors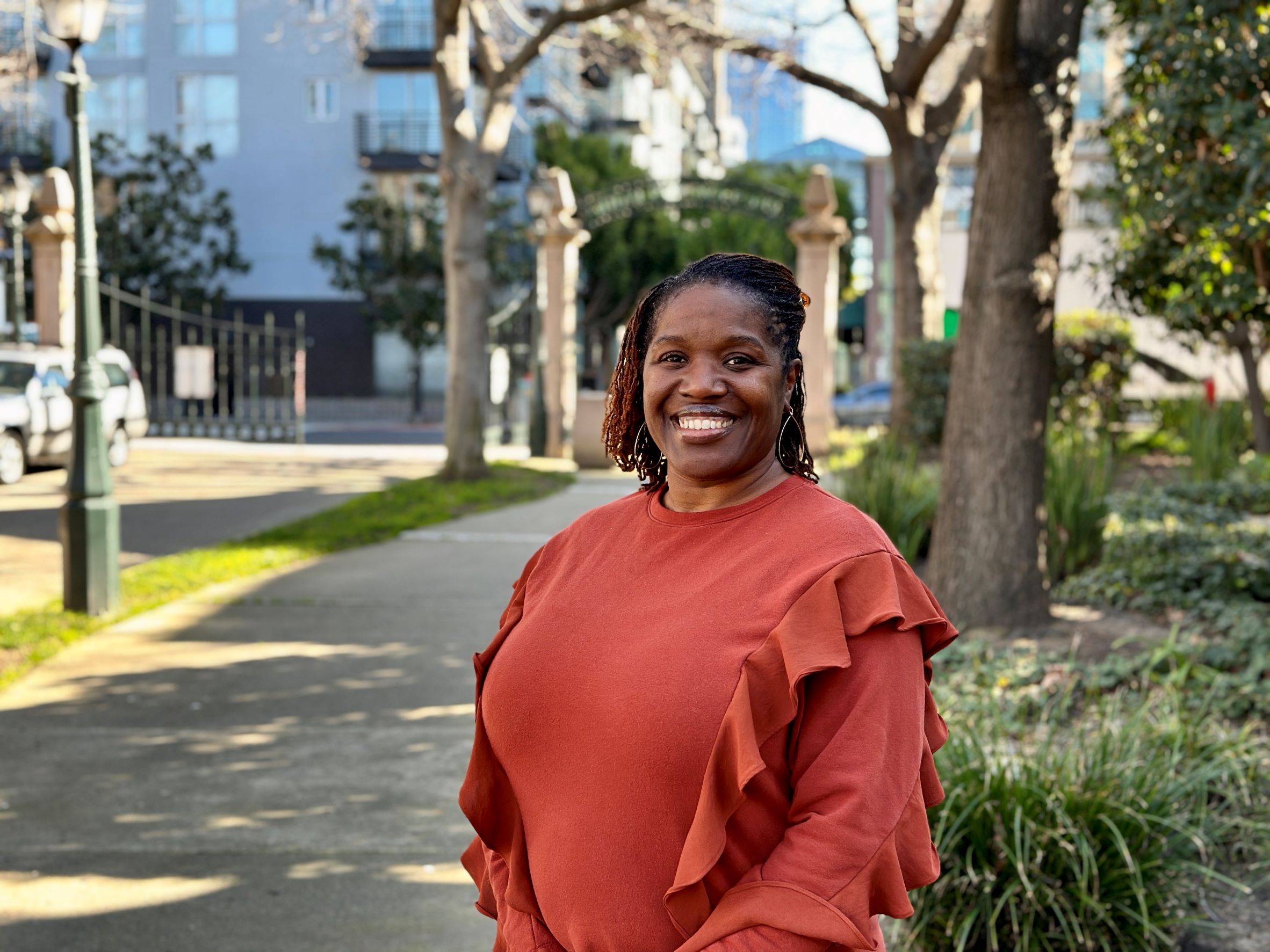 Learn more about how a local community advocate uses a donor-advised fund to deliver equity to grassroots organizations in West Oakland.
Read More
---
Fund and Grantmaking Policies
Fund advisor grant requests at East Bay Community Foundation are governed by our grantmaking and fund policies. These policies ensure that the philanthropic impact of grants made by EBCF align with the values of social justice and racial justice. These policies are periodically updated. All fund advisors should be familiar with these policies.