East Bay Community Foundation is committed to building an inclusive, fair, and just East Bay by creating an inclusive economy that provides equitable opportunities for economic development, entrepreneurship, and good jobs for communities of color. The Inclusive Economy Showcase highlights entrepreneurs of color who lead community-based companies and organizations that are building and shaping an inclusive economy in the East Bay region.
You can learn more about the entrepreneurs who presented at the April 22 event below.
Event Video
Presenters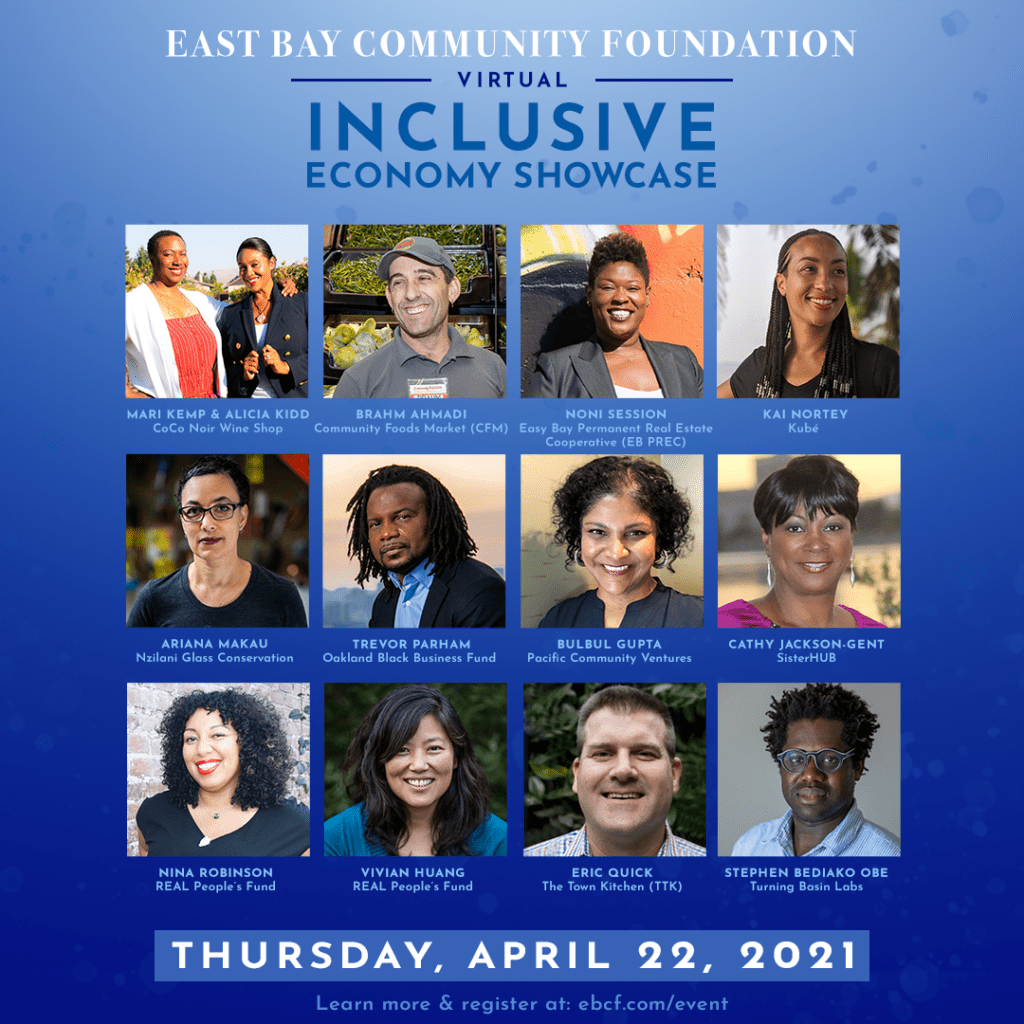 Oakland Black Business Fund
Trevor Parham is an award winning artist, entrepreneur, and investor. He is the Founder of Oakstop; a Black owned and operated business that uses commercial real estate as a platform for economic development and community empowerment by providing workspace, meeting/event space, and creative space for entrepreneurs and communities of color.
As part of his work with Oakstop, Trevor co-founded Oakland Black Business Fund; a Black-led grantmaking initiative, providing capital, technical assistance, and growth strategy to Black businesses in Oakland, California. The initiative was incited by disproportionate rates of closure for Black businesses during the COVID-19 pandemic, further demonstrating vulnerabilities caused by the historical lack of access to capital for Black businesses.
Oakland Black Business Fund's goals are 1) to establish economic resilience for Black businesses and 2) to position these businesses to receive ongoing government, private, or institutional funding. By focusing specifically on Oakland, OBBF aims to strengthen the local economy through the revitalization of Black owned businesses.
Trevor was named Executive of the Year (2020) by the San Francisco Business Times for his work with Oakstop and Oakland Black Business Fund, particularly for his commitment to serving and uplifting the community during COVID-19.
Pacific Community Ventures
Pacific Community Ventures is a 22-year-old nonprofit community development financial institution based in Oakland, California. PCV has a unique model offering affordable working capital integrated with pro bono mentorship through our BusinessAdvising.org program, all with an impact investing outcomes focus on addressing racial & gender wealth gaps, and building community wealth. We are a statewide lender that started in the Bay Area, addressing missing middle finance for small business owners bridging microlending to SBA and bank lending, with loans from $10,000-$200,000; and are the first CDFI in the nation to blend lending capital with small grants focused on improving the quality of jobs that small businesses offer. With our "whole entrepreneur" inclusive underwriting, PCV has gone from serving 65% entrepreneurs of color and women, and low-moderate income communities, three years ago to 85% and 90% most recently, and is committed to fulfilling the Civil Rights mission CDFIs were born to address. PCV kept lending, and co-founded the California Small Business Rebuilding Fund, during the covid economic crisis to scale access to working capital for more small businesses statewide, and is seeking affordable capital and grants to meet the 20X demand increase we've seen over the past year, to shape a more inclusive recovery forward for California's small businesses and their workers. Bulbul Gupta joined PCV as the new CEO just over a year ago, and formerly served on PCV's Board. She comes from a background in impact investing, public-private partnerships, public policy, and working directly with impact entrepreneurs to shape their impact and growth strategies.
Nzilani Glass Conservation
Ariana Makau, Nzilani Glass Conservation, @nzilani_glass
A Kenyan-American raised in California, Ariana Makau lives and works in Oakland. She returned to the Bay Area after receiving an MA in Stained Glass Conservation at the V&A/RCA, in London, England. Makau brings over 25 years of museum and real-world experience in architectural glass through her company Nzilani Glass Conservation, established in 2003.Ariana has worked at numerous museums in the States and abroad including the V&A, the Met, SFMoMA and the J.Paul Getty Museum. She is a Board Member and Safety Chair of the Stained Glass Association of America (SGAA), a Fellow of the American Institute for Conservation (AIC), and an Independent Consultant.Nzilani specializes in architectural art glass preservation and fabrication and is dedicated to making the profession more equitable by being accessible to under-served communities. What started as a small, one-woman studio has expanded to include a full-time core crew of glaziers, artists, project managers and interns. Nzilani's mission of "Be Safe. Have Fun. Do Excellent Work."-also describesAriana. Personal safety has always been central to her work; she believes if you are aware of your environment and materials, it frees you up to do your best and have fun doing it.
The Town Kitchen
The Town Kitchen (TTK) is a mission-driven consumer packaged food company that employs and empowers underrepresented youth from the Foster and Reentry Communities.
Over the last six years, TTK has employed and elevated over 80 youth with livable wage jobs generating over 90,000 hours of employment. TTK has experienced double digit business growth in the past two years and their workforce model has shown it can defy COVID headwinds.
Eric Quick is Autism Advocate and Organic Operations Executive with over thirty years experience in the Foodservice, retail and e-commerce channels including time with notable companies including Disney, Safeway and Revolution Foods.
Passionate about leveraging technology to bring a cleaner food supply to the masses, Eric prides himself on building relationships that grow and support health, wellness and organic food companies.
kubé
Kai Nortey is a visionary and socially conscious, Black woman, business leader who is tenaciously leading the next inclusive and full-circle regenerative economy with vegan, coconut ice cream manufacturing that inspires, awakens, and transforms lives. Kai enthusiastically says," lay off the boob of the mama cow, and get on the coconut; it will protect your life and hers!" kubé is producing the next generation of the BEST TASTING plant-based coconut ice cream, without synthetic chemicals (No Sodium Metabisulfite). With automatic patented coconut equipment, we crack, shred, and cold-press mature coconuts to obtain its fresh coconut cream to make creamy and bold plant-based flavors of ice cream, with no coconut flavor. kubé is building economic liberation models that exist to restore life, health, JOY, dignity, and equity back to people, animals, and the soil.
East Bay Permanent Real Estate Cooperative
Noni Session, Executive Director: A 3rd generation West Oakland Native, Cultural Anthropologist, Co-op Enthusiast, and Grassroots Organizer. Her work with EB PREC has grown out of a love for her community and her Doctoral research in Nairobi, Kenya on Non-Governmental Organizations' impact on community control and sovereignty.
About EB PREC: East Bay Permanent Real Estate Cooperative (EB PREC) is a trailblazing land and housing organization that facilitates BIPOC (Black, Indigenous & POC) and allied communities to organize, finance, purchase, occupy, and steward land and housing. Our model brings deep community engagement squarely into the process of property acquisition, development, and business feasibility. Our community activation work also provides the organizational, network, financial, and technical inputs that increase communities' ability to self-organize around housing solutions.
Community Foods Market
Community Foods Market (CFM) is a full-service food market serving a predominantly low-income BIPOC neighborhood in West Oakland on the belief that food brings people together, builds community and strengthens families. CFM is proudly independent, locally-owned and driven by the purpose of anchoring food access, job creation and positive impact in a historically marginalized community. The market's roots began when Brahm Ahmadi co-founded a nonprofit organization called People's Grocery in 2002 to pilot solutions to the nutritional needs of the community. Brahm built upon the nonprofit's foundation to develop and open CFM in 2019 and now leads the social enterprise as its CEO.
REAL People's Fund
REAL People's Fund is a $10M community governed loan fund investing in East Bay entrepreneurs of color with a strong social mission. We are unique from other investment and loan funds in that we are governed by the community; grassroots leaders from organizations representing thousands of East Bay community members who are most impacted by economic injustices serve as the REAL People's Fund Board. We make investment decisions that impact business and economic development in our neighborhoods and communities. This powerful board, made up of Alliance of Californians for Community Empowerment (ACCE), Asian Pacific Environmental Network, Communities for a Better Environment, Oakland Rising, Restaurant Opportunities Center, and Restore Oakland, hired and manage fund administrators RUNWAY and Community Vision, as well as business advisory services provider, Uptima Business Bootcamp. Borrowers receive integrated capital (in the form of loans and grants), culturally competent technical assistance, and community support. This unique capital strategy, working in tandem with community organizing efforts led by the grassroots partners, is creating a new model for community investments that centers racial equity and justice.
Nina Robinson (She/Her) is a financial activist, capital convener, and creative. She is passionate about building the conditions for an economy rooted in justice and joy by embracing transformative practices that build Community Wealth creation and promote healing for Black, Indiegneous, and People of Color communities and Mother Earth. Nina's journey to this work started in technology and evolved into social entrepreneurship, community finance, and impact investing.
Being from a Chinese immigrant family, Vivian Huang fights for justice for immigrant communities. Currently, she is Deputy Director for Asian Pacific Environmental Network (APEN), organizing with immigrants and refugees to develop collective power and leadership for a thriving economy. In this solidarity economy work, Vivian is also part of Cooperation Richmond, REAL People's Fund, and Grassroots Asians Rising. Prior to working at APEN, Vivian spent a decade pushing for policy, legislation, and budget funding for immigrants, communities of color, migrant farmworkers, and women, including being a mentor for the Women's Policy Institute. Vivian loves supporting leadership development for herself and others through training with the School of Unity and Liberation (SOUL), advising AYPAL: Building API Community Power, participating in somatics, and formerly teaching public health policy at San Francisco State University.
Turning Basin Labs
Turning Basin Labs is an innovation and staffing center dedicated to implementing change to the workforce and giving workers and employers the resources they need. Our cooperative business model introduces ownership and engagement to our workers providing them a voice & the opportunity to enjoy profit share. Since August 2019 we have helped nearly 100 contractors find high road work, paying at least $20 an hour, and with the chance for ownership. Funded by Irvine Foundation, Kendeda, JFF and in collaborating with partners like JVS, Fab City and ClimbHire we have supported our workers to find quality work. Our workers are primarily BIPOC, women, returning citizens and long term unemployed.
Sister Hub, LLC
For over three decades, Cathy Jackson-Gent has offered professional financial consulting services and support to municipal agencies and individuals. Her USF Computer Science/Management Science dual education propelled her in Silicon Valley. Cathy founded Global Investment Company 37 years ago. As a result, her clients range from well-known leaders, corporations, and prolific families. Cathy is expanding her leadership role in California with OZI Company, LLC, America's first Women-Owned OZ Investment Fund created to impact environment, social justice and governance by helping to build better communities with non profit partners. Their current joint venture project, SisterHUB is an eco community including residences and Arica American Hub.
CoCo Noir Wine Shop & Bar
Mari Kemp and Alicia Kidd: We are both wine lovers. As friends, we both noticed on our many trips to wineries the lack of diversity. We both set out to make a difference by going into business together and creating CoCo Noir Wine Shop.
CoCo Noir Wine Shop is the next-level place for the wine enthusiast. Our selection of curated wines produced by women and people of color offers the customer and the winemaker a space that is inclusive, diverse and makes a social impact in the wine industry.