Latinx-led community organizing, power building, and movement building have deep roots in Oakland, especially in Fruitvale and East Oakland. From the 1940s to today, El Movimiento may have changed, but the legacy of Latinx community organizing lives on in the Latinx-led organizations listed below.
"The Border Crossed Us"
People with Latinx ancestry had a presence in Oakland even before the U.S. Census added Hispanic as a race and ethnicity category in the 1970 U.S. Census. Latinx ancestry can be traced back to some Indigenous communities living in regions colonized by the Spanish that eventually became part of the U.S. This is why many people with Latinx ancestry—especially Mexican-Americans— from parts of Colorado and Wyoming, Texas, New Mexico, Arizona, Utah, Nevada, and California say, "the border crossed us." Today, the Latinx community is the largest ethnic group in Oakland, making up 28% of the population (U.S. Census data).
World Ward II Population Boom
The Latinx population in Oakland grew tremendously during World War II. Many Latinx workers crossed state lines to fill labor shortages in the Southern Pacific railroad, canneries, factories, and shipyards. Most workers were Mexican-Americans from New Mexico, Texas, and Colorado. But there were also many Cubans, Central Americans, Puerto Ricans, and Mexicans from the bracero program who joined the workforce and contributed to the growing economy of Oakland and the East Bay.  
However, the influx of Latinx workers and the abrupt shift of neighborhood demographics created racial tensions that often resulted in violent conflicts between U.S. military personnel, the Oakland Police Department (OPD) and Latinx workers and youth. This was the time of the zoot suit, a trendy clothing style that consisted of a baggie suit, long coat, and pork pie-style hat. Wartime rations on fabric made wearing attire that required lots of fabric a defiant act, and Brown and Black youth were particularly targeted by police, soldiers, and sailors who considered their suits "unpatriotic." Following the Zoot Suit Riots in Los Angeles in June 1943, law enforcement across the state adopted anti-zoot suits sentiments which led to further harassment and increased criminalization of Black and Brown youth.
After the war, Latinx communities across the country experienced racial tensions, extreme poverty rates, and a lack of quality services. The need for social, political, and cultural power—plus the momentum created by the Civil Rights Movement—gave birth to the Chicano Movement or El Movimiento. As part of its equality agenda, the Chicano Movement aimed to increase rights for farmworkers, seek education reform, and advocate for access to quality social services.
Oakland Becomes An Epicenter For Latinx-led Power Building & Movement Building
In the 1950s, the Community Service Organization (CSO), a civil rights organization that provided community organizing training for Cesar Chavez and Dolores Huerta opened a chapter in Oakland.
The CSO provided community organizing training, voter education, citizenship classes, legal counsel, and other activities aimed at giving the Latinx community leaders the tools to confront racial injustice and advocate with and for their communities. The CSO was responsible for training many of the young leaders that would become important advocates for the Latinx community at the local, state, and national level. Some of the local community leaders that developed from the CSO Oakland chapter include Hernan Gallegos, late Alex Zermeno, and Arabella Martinez.
In 1967, Arabella Martinez became the founder and first CEO of The Unity Council, the community development corporation responsible for building The Fruitvale Transit Village and hosting the annual Oakland Día de los Muertos Festival in the Fruitvale neighborhood. Martinez was also the first Latina appointed to a sub-cabinet level position, serving as assistant secretary for the Office of Human Development Services in the U.S. Department of Health, Education, and Welfare under President Jimmy Carter.
In 1968, Gallegos partnered with Zermeno and other Latinx leaders to create the National Council of La Raza (NCLR)—today known as UnidosUS—the nation's largest Latinx civil rights and advocacy organization, and largest provider of technical assistance to Latinx community-based organizations. According to the history of UnidosUS, the founders remained integral to the organization's success for decades after. The original network of Affiliates began the organization's legacy as a champion for Latino-serving community organizations.
The Vietnam War Creates a Wave for Latinx-led Community Organizing
In the late 1960s, the Vietnam war military draft sparked outrage among Americans across the U.S., especially among many young men of color who saw the draft as a death sentence.
In Oakland, Latinx college students and young activists organized anti-war efforts as part of the National Chicano Moratorium against the Vietnam War. On July 26, 1970, hundreds of students walked out of class from multiple Oakland Unified School District School (OUSD) high schools to join the march, which ended in a rally at San Antonio Park. The students and young activists demanded the withdraw of U.S. armed forces from Vietnam and shinned a spotlight at the injustice of sending young men to war to defend a country that did not provide their communities with access to quality education, social services, and basic infrastructure.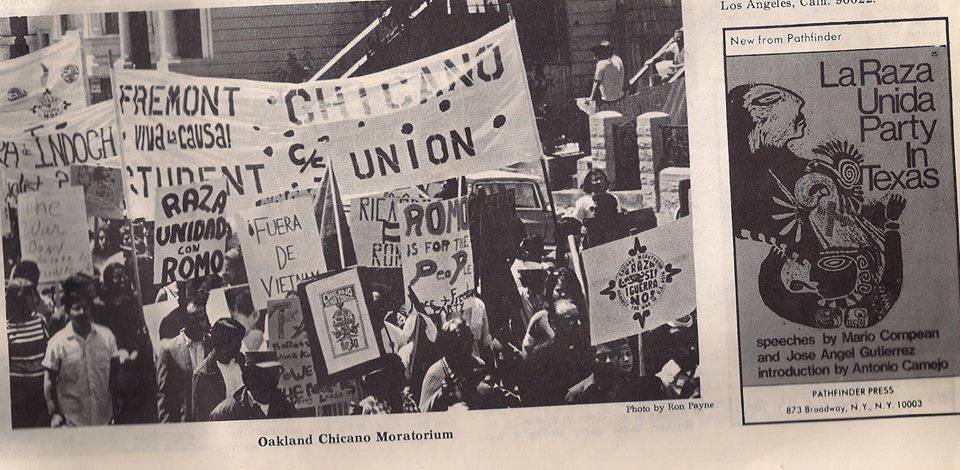 Inspired by this wave of Latinx-community organizing and distressed by the lack of action from the government, many Latinx students and activists decided to found organizations that provided their communities with much needed social services. Two anchor organizations that emerged in Oakland during this period are Centro Legal de la Raza and La Clínica de la Raza, organizations that were founded by Latinx UC Berkeley law and medical students, respectively.
Founded in 1969, Centro Legal de la Raza aimed to protect and advance the rights of low-income, immigrant, Black, and Latinx communities through bilingual legal representation, education, and advocacy. In 2020, Centro Legal provided free legal representation to 1,445 individuals and distributed $3.5 million in cash assistance to 7,432 undocumented workers through their Oakland Undocumented Relief (OUR) Fund.
Founded in 1971 as a small community clinic, La Clínica de la Raza aimed to provide access to high-quality, culturally appropriate health care, regardless of people's ability to pay. Today, La Clínica serves over 90,000 patients across 35 sites in Alameda, Contra Costa, and Solano counties. In 2020, La Clínica administered 27,000+ COVID-19 tests and 40,000+ COVID-19 vaccines.
Many impactful Latinx-led organizations emerged in the following decades in response to the gap of quality services for the Latinx community in Oakland and the East Bay. We invite you to learn more about our Latinx-led core grantee partners, along with other key Latinx-led nonprofit organizations providing much needed services to the Latinx community in Oakland and the East Bay. You can donate directly on their websites and EBCF fund advisors can make grant recommendations directly through Donor Central.
JOIN EL MOVIMIENTO! SUPPORT LATINX-LED ORGANIZATIONS
Latinx-led Core Grantee Partners
CJJC builds grassroots power and leadership to create strong, equitable communities. They work toward housing and racial justice for African Americans and Latinos through rights-based services, policy campaigns, civic engagement, and direct action. 
Monument Impact is a community-based nonprofit dedicated to building skills, resources, and power towards economic prosperity with immigrants, refugees, and low-income residents in Concord and surrounding communities.
MUA is a member-led organization that utilizes healing justice in its approach to power building. MUA has local, statewide, and national influence through its campaigns led largely by undocumented Latinx domestic workers.
Latinx-led Organizations in Oakland
At EBCF We Fund Community Organizing, Power Building & Movement Building
Community Organizing, Power Building & Movement Building are about shifting and building long-term power to bring about the changes our communities are calling for. Since Fall 2017, East Bay Community Foundation has distributed over $6.5 million in grants and contributions to support community-driven systems change. We strongly believe individuals and families who have first-hand experience with the root causes of injustice have the most valuable insights and are critical to developing best-fit solutions for their communities. For this reason, we fund organizations that work with individuals, families, and coalitions to develop, execute, and support community-led solutions. Learn more on our Community Organizing, Power Building, and Movement Building page.