One of the most inspiring aspects of the response to the COVID-19 pandemic has been the creativity and energy that leaders across the country have displayed in order to build community and save lives.
One such effort has brought together a wide range of partners dedicated to addressing the disproportionate effect that the pandemic has had on African American communities across the country.
Late last year, we announced that the East Bay Community Foundation had been chosen by Kaiser Permanente to be the lead philanthropic partner in a project to conduct outreach to Black communities to ensure that they had the health services they needed to stay safe – information, easy testing, and access to vaccines.
This project has brought together members of Congress, led by our own representative Congresswoman Barbara Lee; a national advertising campaign; a social media strategy; a health evaluation effort; and partnerships with twelve community-based organizations in Oakland, Los Angeles, Washington DC, Atlanta & Albany, GA, Tunica County, MS, Beaufort County, SC, and Selma, AL. These regions were selected because they had some of the highest racial disparities in COVID-19 infection and hospitalization rates in the country.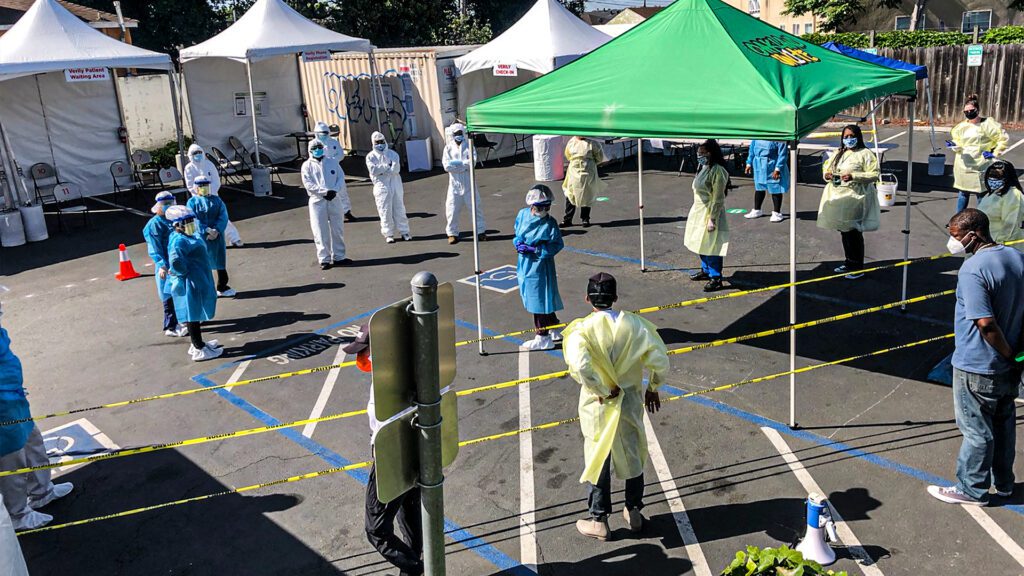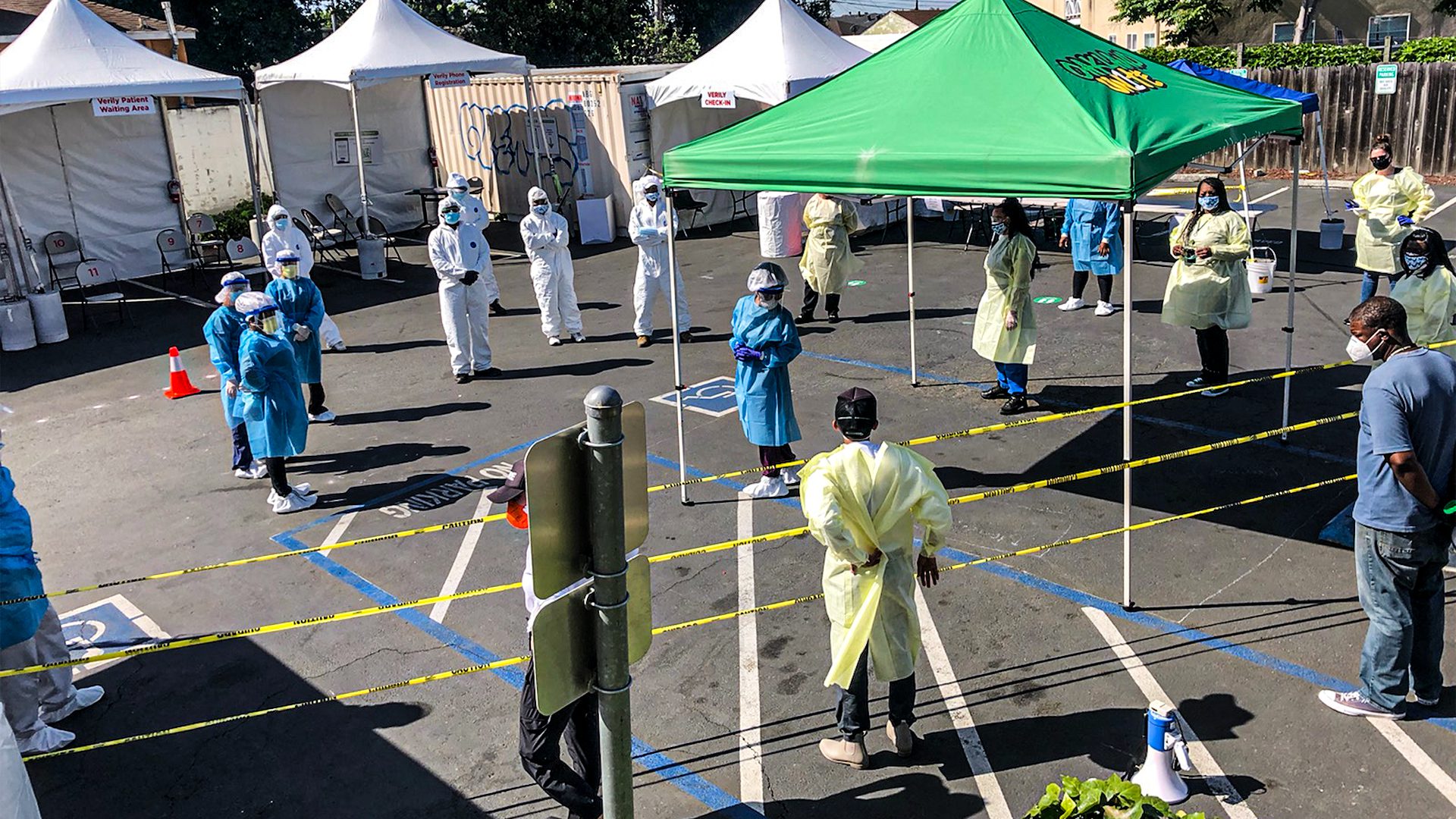 At a recent meeting of the project's participants, Congresswoman Lee noted that the project was launched in 2020 as a response to inaction by the previous federal administration, "We saw that our government was not responding to Black and brown communities."
While a change in leadership in Washington has been a welcome relief, there remains a great deal of work to accomplish.
Much of the project has been devoted to connecting with members of the Black community and other communities of color to help them better understand how to deal with the pandemic. A national advertising campaign featured an African American doctor and focused on how to stay safe during the winter surge. At the same time, 12 anchor community-based organizations and 30 community groups began working closely with the people in their neighborhoods, talking to them about masking, testing, and especially the vaccine and delivering vital health services. 
As Preston DeFauchard, the CEO of West Oakland Heath, put it, "Progress happens at the pace of trust. Trust has to be earned. The more you can engage with the community the more you can develop a platform on which that trust can be built."
Keshee Smith, the CEO of Rural Health Medical Program in Selma, AL, added, "Being in the communities where people live, shop, and work has been important. We're in it together, we've seen patient numbers increase and partnerships flourish."
This work has not progressed without challenges, however. A key barrier has been a lack of access to basic resources, especially vaccines.
As Dr. Gary Puckrein, the CEO of the National Minority Quality Forum, which is conducting an evaluation of the effectiveness of the effort, pointed out, "The CDC didn't make vaccines readily available to minority communities, which made it difficult for African Americans to get access to the vaccine. In addition, there has been a lot of disinformation about the Black communities' attitudes toward the vaccine that was spread by others."
Dr. Faith Polkey, the Chief Clinical Officer of Beaufort Jasper Hampton Comprehensive Health Services in South Carolina, agreed. "It just isn't true that black people are hesitant. They want the vaccine. The big problem, especially early on, was that they could not get access. We're doing micro events to vaccinate people now." She added that Black churches have been an essential partner in the strategy.
Rev. Warren Long, who serves as Administrative Manager at Allen Temple Baptist Church in Oakland, also had to overcome community concerns. In the end, Allen Temple's mobile testing and vaccine clinics proved to be extremely successful. They have helped vaccinate some six thousand people to date.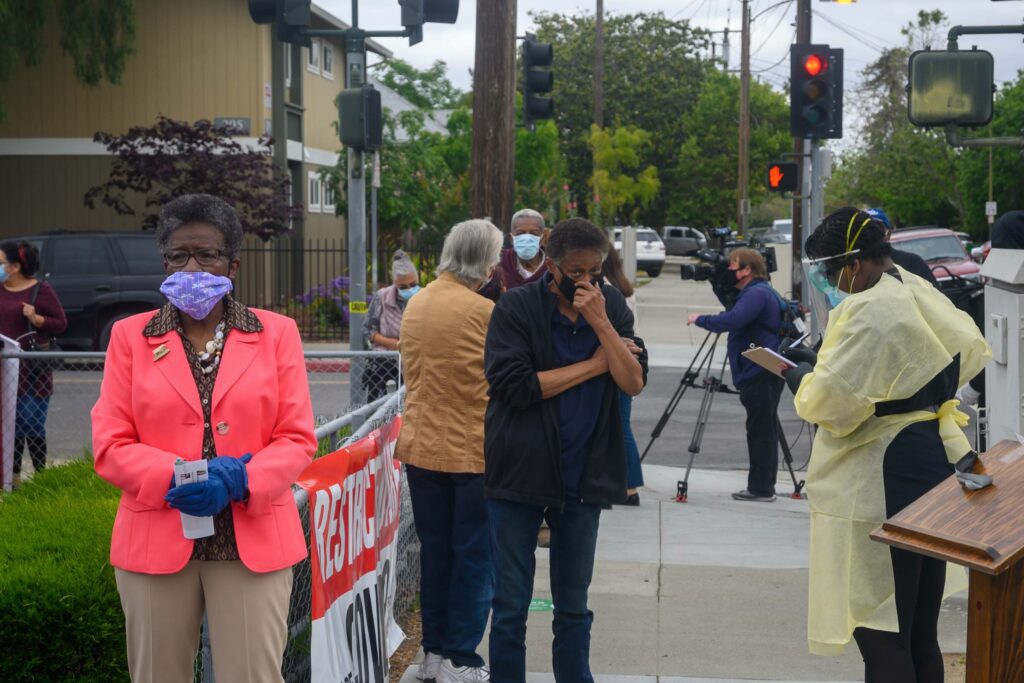 In perhaps one of the most novel and promising strategies, Nedra Fortson, who is Executive Director of the Samaritan Clinic in Albany, Georgia, explained that her clinic took advantage of the enthusiasm and organizational tools that were created during the voter registration and turnout efforts in the recent election. Their clinic is partnering with Black Voters Matter to canvas the community to encourage people to get vaccinated.
Congresswoman Lee explained to her colleagues that this work has proved to be a model for a host of other efforts, including the Community Care Act, which would provide emergency funding for community organizations in medically underserved communities that suffer from health disparities to take action as part of the larger public health effort to contain COVID-19. It also helped inform the strategy that the Department of Health and Human Services unveiled in May, which will provide approximately $250 million in developing a community-based workforce to serve as trusted messengers to deliver public health information, increase vaccine confidence, and address barriers to vaccination for vulnerable and medically underserved communities.
Throughout the pandemic, community-based organizations have been adapting every step of the way and are now ensuring the most appropriate messaging and outreach for teenagers.
"This work has been extraordinarily gratifying," said East Bay Community Foundation CEO James Head. "We have had an opportunity to advance racial justice and racial equity not just in our East Bay community, but across the nation. We are deeply grateful to Congresswoman Lee and to Kaiser Permanente for their vision and commitment, as well as to our donors and funders, who make it possible for us to do what we do."
One church leader, Dr. Daniel Simmons, Senior Pastor of Mount Zion Baptist Church in Albany, GA, helped establish vaccination sites around the community, including in people's homes. His church trained pastors to encourage their congregants to get vaccinated. He also partnered with Albany State University, the highly respected historically Black university, to engage students. Students were concerned that elected officials who were not in support of the Black Lives Matter movement were now promoting the vaccine.