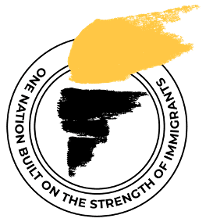 In 2017, a group of Asian American and Pacific Islander (AAPI) activists from across the country began a campaign and organized a network of leaders and activists across the country to develop a multi-prong set of strategies to combat the rise in Anti-Asian and anti-immigrant discrimination and hate. At the time, the major focus was to combat the forthcoming "Public Charge" regulatory change, which would endanger the legal status of legal immigrants receiving various forms of public assistance. Thanks to the critical work of this network, called the One Nation Commission, and of allies from across the country, the former administration's draconian Public Charge Final Rule was recently eliminated by the Biden administration.
The work of the One Nation campaign continues, focused on the dramatic rise of Anti-Asian hate and racism. As documented in One Nation's most recent report: "58% of Asian American adults say it is now more common for people to express racist or racially insensitive views about people who are Asian than it was before the coronavirus outbreak."
The One Nation campaign seeks to double down in its work to combat persistent negative narratives of the AAPI community, that have allowed for dangerous policies and attacks on our community to flare up once more in deadly ways. One Nation is investing in strategies to promote self-empowerment for civic engagement, and foster dialogue that challenges conventional narratives bound to racism and xenophobia.
In addition to its work on narrative shift, the One Nation campaign is also investing in: (i) grassroots community organizing, (ii) policy advocacy, and (iii) legal advocacy.
EBCF is proud to host the One Nation campaign's fund, which seeks to pool together resources to support these strategies. Now more than ever, in this time of intensified anti-Asian hate that is but a part of the perpetual history of U.S. anti-Asian racism, we call for unity and action against racism, hate, and violence. Join us in this effort to lift up AAPI visibility, voices, issues, and strength.