The Park Theater Trust's Mission to Reopen Lafayette's Historic Park Theater Cinema will add Sparkle and Substance to the East Bay Cultural Scene
In December 2021, after an arduous, multi-year effort amidst the global pandemic, all-volunteer The Park Theater Trust purchased the iconic Park Theater building for the community. Now, through the Lafayette Park Theater Fund, the push is on to raise the $5 million necessary for its renovation into an exciting, sustainable cinema and rental venue featuring two theaters, a community space, commercial kitchen, and rooftop terrace – the only one in Lafayette. The goal is to open by Holiday 2023.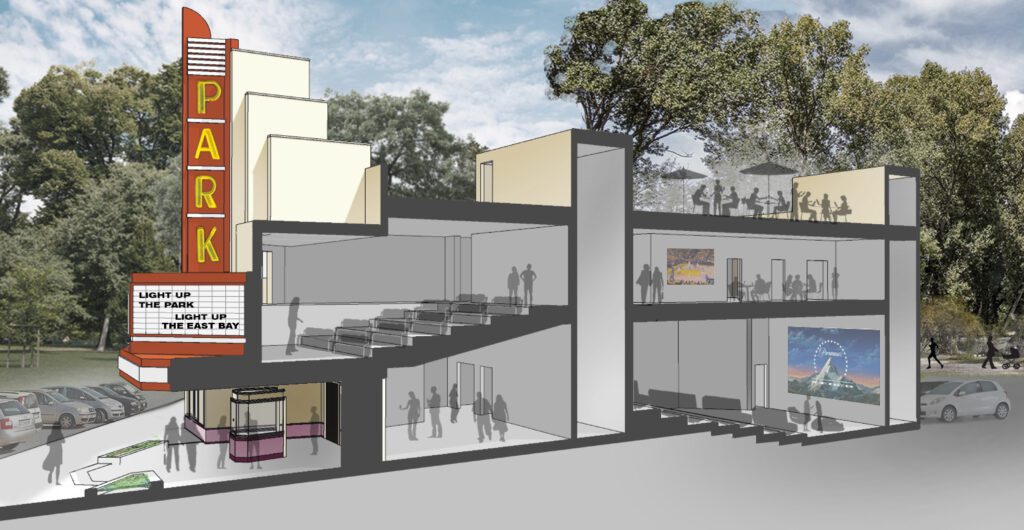 For the Park's operator, the Trust has announced it will be teaming up with Adam Bergeron and Jaimi Holker of CinemaSF, highly regarded for their programming mix of first-run art and independent films, new Hollywood releases and classics, with a little music and other eclectic events added to its community-focused offerings. This will be CinemaSF's first foray into the East Bay cultural scene and if social media is any indication, the partnership will be hugely successful.
The re-imagined Park Theater will be the first and only cinema art house of its kind this side of the Caldecott Tunnel, bringing an elevated level of culture and entertainment to Contra Costa County and beyond. Among other programming priorities, we envision films for families with young children, movies with appeal to the senior community, provocative films that deal with diversity and equity, economic and social injustice, and the natural environment.
Films are not just entertainment: Films are a reflection of life's hopes and dreams, its beauty and its sorrows. Films spark meaningful conversations around a dinner table, and around a community. Even as they divert us with laughter and artful distraction, films can spark change. The re-opened Park Theater will aim to present film at its finest, its most engaging, and its most impactful, including programs geared for special-needs audiences.
The Park Theater Trust's mission to restore and operate Lafayette's iconic Park Theater building and revitalize it into an accessible and inclusive, community-centered cinema, arts and culture hub with programming that includes critically acclaimed films, throwback favorites, and engaging non-film events is a sustainable, long-term solution for this historic property, with exponential and enduring benefits to the greater East Bay community. Recognition of this potential impact has elicited consistently unanimous endorsements of our progress from local, county, and state government and organizations, and TPTT has been the recipient of three consecutive Excellence Grants from the Lafayette Community Foundation.
Walt Disney famously stated, "All our dreams can come true, if we have the courage to pursue them."  NOW is our ONCE and FOREVER opportunity to bring this dream, this cultural icon, back to life for ALL of us. Please join The Park Theater Trust and donate to the Lafayette Park Theater Fund today. Together, let's light up the Park for the entire East Bay.