Climate & Environmental Justice Fund and Climate Voices Blog Series!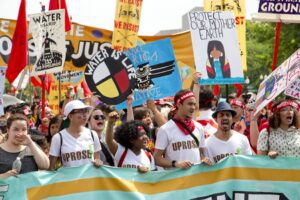 An inclusive, fair and just East Bay is one where all people have access to clean air, land, water, and food — and a livable climate that sustains human health. Yet last year, California saw record fires — sea levels are continuing to rise — extreme weather patterns have roiled the U.S. — and fossil fuel and other corporations continue to pollute the environment, food systems, and local neighborhoods where low-income East Bay residents of color call home.
In anticipation of the upcoming U.N. Climate Talks in late September, EBCF is launching a three-part series that highlights how East Bay communities are fighting back against human-made climate change and environmental injustices, called Climate Voices. In the coming weeks, we will launch a Climate & Environmental Justice fund to enable our donor community to participate in local efforts to protect our environment, slow climate change, and ultimately lift up the voices of the East Bay's disadvantaged communities.
To kick us off, we are inspired by the efforts of Youth vs. Apocalypse, a diverse group of young climate justice activists working together to lift the voices of Bay Area youth to fight for a livable climate, and an equitable, sustainable, world. This amazing group has inspired thousands of young people to take up the mantle of climate justice and are encouraging our elected officials to make environmentally and socially conscious policy decisions. Check out a video clip of their work below:
Previous Article
Next Article
Comments are closed.